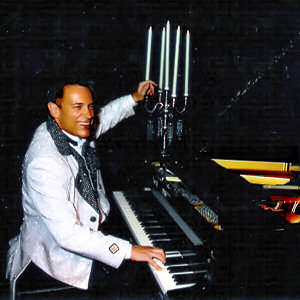 "America's Pianist to the Presidents", Two-Time Gold Record Winning Artist, Piano Accompanist for Frank Sinatra, The celebrated Liberace Protege Steve Garey is now a proud new inductee into the prestigious publication "Who's Who" Honors Society!
Liberace selected a very choice number of pianists during his lifetime to become his official proteges and chief among them certainly has to be his fully endorsed, last and final Protege, the most celebrated of them all: Steve Garey!
As the only authentic Protege of Liberace's to receive the endorsement and acknowledgement of the Board of Directors of The Liberace Foundation as well as their valued encouragement, along with the full written endorsement and acknowledgement of the Liberace Estate (Mr. Joel R. Strote, CEO/executor/trustee) of The Strote Law Group in California, the ever-popular Steve Garey is a captivating Grand-Piano/Vocal performer and recording artist with an unmistakable piano talent, a dynamic singing style, a warm personable wit, along with his popular solo-piano performances at five-star leading Resorts and Hotels, and a wide variety of exciting all-new award-winning multi-media stage show options that have to be seen to be believed!
Steve Garey began his career as a child prodigy in the 1970's with contracts to perform as an official concert artist for Yamaha Piano Corporation, Hammond Organ Corporation, and Roland Musical Instruments Corporation among others. His concerts earned him a reputation as a sure-fire audience pleaser from a very early age. He propelled this success into a nightclub career that brought him to the heights thru-out the nation. Steve Garey went on to television and film work and award winning performances on literally every continent on the globe. By the age of 20 Steve was chosen to serve as the piano accompanist for none other that Frank Sinatra, a long time friend to Steve.
In 1981 Mr. Showmanship himself Liberace selected Steve as his last and final Protege. An influence that Steve values and carries with him to this day.
Often referred to as "America's Pianist To The Presidents" Steve Garey has given Command Performances for a total of five (5) Presidents of the United States! Presidents Ford, Reagan, Bush, Clinton and Bush. (Quick-witted Steve has been quoted as saying there's no truth to the rumor he played for Taft!), and indeed talented recording artist Steve Garey is the proud recipient of two Gold Record Awards as well!
Steve Garey continues to set industry records. His compensation for his appearances at the renowned St. Regis Hotel set a monetary record that stands today as the single highest paid Piano Entertainer in the history of State of California. Following that success Steve Garey went on to perform for the Six-Star Ultra-Luxury Seabourn Cruise Line again setting a monetary record obstensively making Steve Garey the highest paid Piano Performer thru-out the entire luxury cruise industry! Steve's performances were even photographed for inclusion in Seabourn Cruise Lines newest brochure!
Steve Garey is not a mere "copy act" of Liberace but is rather a living part of Liberace's fine legacy. Steve is an authentic Protege of Liberace's having studied with him from 1981 to 1987 (the last six years of Liberace's life) and was there at Liberace's home when Liberace died on February 4, 1987. Steve is proud to be a living example of his good friend's superb legacy, and equally proud to be bringing Liberace's exciting musical spirit successfully into the 21st century!
A Lifetime Achievement Award was recently bestowed upon the late Liberace and it was Steve Garey who was chosen by both the Liberace Estate, as well as the Liberace Museum and Foundation to receive this rare honor on Liberace's behalf. A proud moment for Steve!
Liberace, during the 1980's while instructing a young Steve on many of his own legendary signature style-cues and musical phrasing, determined it was always his wise intention for Steve to be the very finest musical performer he could be, to reach his full potential while not resorting to becoming a mere imitation of anyone.
Still, as you can well imagine, Liberace's musical influence was most profound and his audiences can clearly hear Liberace himself come back to life in each and every song Steve Garey performs! It is truly amazing to witness and the audiences world-wide consistently stand and cheer! A fine tribute to Liberace and his most well earned legacy. Liberace's wise advice to Steve was to make each and every show "entertaining" and to "always keep it fun and fast-paced for the audiences". Liberace would be proud.
Frank Sinatra (whom Steve very proudly accompanied on piano in the 1980's) impressed upon Steve to "always remain true to your integrity, and to the integrity of each song" and to "be honest with your audience and with yourself." The results of these rare and privileged tutoring sessions are evident in each one of Steve Garey's performances and popular recordings! Mr. Sinatra and Steve remained good friends right to the end when "Francis" died in 1998.
The uniqueness of Steve Garey's talent as both a vocalist and a pianist have brought him two Gold Record Awards, inclusion in Cambridge's venerable publication, "Who's Who", notoriety from many of the world's most respected newspapers, magazines, leading entertainment industry trade journals, magazine cover photo's, as well as numerous television appearances (CBS, CNN, ABC, NBC, A&E, etc.) and countless radio appearances.
Most recently Steve's showroom/theater appearances were featured in Cosmopolitan Magazine, The Seattle Post-Intelligencer, The Orange County Register as well as the nationally prestigious Hollywood Reporter, among others. Additionally, Steve was proudly featured on the covers of both TV GUIDE in Canada and the American music industry publication "The Score Magazine". Also Steve Garey was recently named Contributing Editor to Keyboard World Magazine, and continues to serve as a consultant on books and film projects regarding both Liberace and Frank Sinatra.
Along with these Command Performances for a total of five (5) Presidents of the United States and his frequent Command Performances for the Crown Monarchs and Royal families of Europe and Asia, Steve Garey has been featured at many of the world's most exclusive and celebrated hotels, resorts and six-star luxury cruise lines. In fact, Steve's record-setting appearances have been featured in publications thru-out the world. A native of southern California Steve has performed on every continent of the world, and in literally dozens of nations!
While always a popular attraction at Corporate Events thru-out the United States and internationally, as either a solo pianist, piano vocalist or in full stage show mode Liberace Protege Steve Garey has been featured in leading theaters and showrooms (including appearances at The Waldorf Astoria in New York and the famed "Maxim's" in Paris!),and nations including Japan, Korea, Australia, Canada, Mexico, Mediterranean nations, Israel, and numerous middle east Arab nations.
Having done television, radio and film work in the U.S., Japan, and Latin America Steve Garey has also proudly appeared on stage "In Concert" at the Universal Amphitheater in Los Angeles, in concert with the South Florida Philharmonic Orchestra (November 2009, featured vocalist Bernadette Peters), in concert at Steinway Hall, New York, NY (2005), the Hyatt Regency Century Plaza Hotel in Los Angeles, the Hilton Hawaiian Village Resort Hotel in Honolulu, The Irvine Hilton (Orange County, CA), The famed Fairmont Hotel (California), the Disneyland Hotel in California, the Sheraton Universal Hotel in Los Angeles, the Irvine Marriott Hotel, the Registry Hotel in Newport Beach, countless appearances in numerous major hotels/casino's in Las Vegas, Nevada and in Palm Springs, California. Liberace Protege Steve Garey's most current and proudest concert achievement was at the incomparable and Mobil five-star award winning St. Regis Resort at Monarch Beach, in Southern California (an unprecedented multi-year run!)where he performed for yet another President of the United States as well as many of the Governors of the United States at the National Governors Conference.
One of Steve's most celebrated appearances was for an historic "Live Aid For Africa" event alongside HRH Prince Charles (UK) where Steve performed live to a televised audience of millions! His proudest moment came when his good friend Liberace was honored posthumously with a "Lifetime Achievement Award" and Steve Garey was selected by both the Liberace Estate and the Liberace Foundation/Museum to accept this privileged award on Liberace's behalf, aired live on CBS Television! That award is now proudly displayed at the Liberace Museum. In addition to his frequent Command Performances for Crown Monarchs and Presidents, Steve Garey's fortunate and varied career has taken him to performing on stage alongside many of the biggest names in the entertainment industry including: Liberace (in Las Vegas and in Palm Springs), Frank Sinatra (in Palm Springs, CA), Sister Sledge (Orange County, CA), Brenadette Peters (Ft. Lauderdale, FL), '80's Icon Tiffany (Palm Springs, CA), comedy legends Rip Taylor and JoAnne Worley (in Palm Springs, CA.), Johnny Mathis (in Rancho Mirage, CA), John Travolta (Palm Springs, CA), and Debbie Reynolds (Aladdin Hotel, Las Vegas, NV).
Early in his career Steve was chosen for an unprecedented and much celebrated Command Performance for the late Shah of Iran during his dramatic final visit to the United States. More recently after several film and television appearances, Steve premiered his popular Japanese hit-recording "Yume Sepia" during one of two Command Performances for HRH Prince Mikasa of Japan. Very proud moments for Steve!
Steve's early career included appearances with Mickey Gilley, Rosemary Clooney, Dinah Shore, Jimmy Rogers, comedians Scatman Crothers, Martha Raye, screen legend Jane Russell, the legendary Phil Harris and Alice Fey, just to name a few of his favorites!